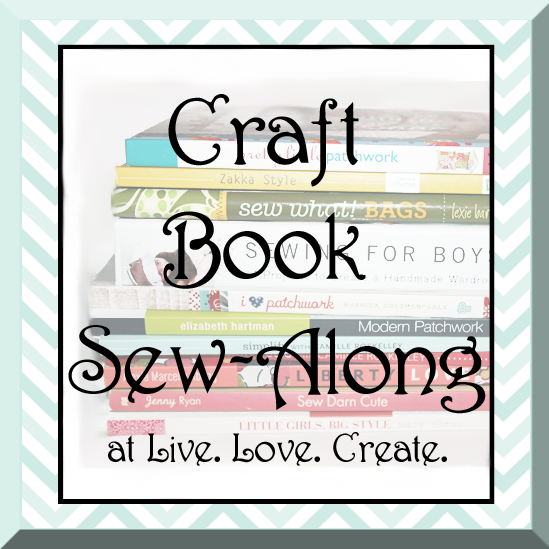 Monthly Linky Party
Back when the year was fresh, I made a lot of sewing commitments. Not really New Year's Resolutions but
like that
. The remnants of some of those commitments are on the sidebar of this blog. But there were more that never made it to the sidebar. At the time, one of my sewing buddies said "you are going to be VERY busy". Yes. Busy.
Things held together pretty well during the winter months but then spring, our son's wedding, another son decided to swim competitively, our daughter and college visits, chores, chores, and more chores outside. And well, there you have it. I have not been very "busy" with sewing but have been plenty busy.
The one thing that has sorta been kept up is the monthly Craft Book SAL with
Live.Love.Create.
I say sorta because although I've had the projects done, I haven't been able to post a blog about them or to upload them to
Kelly's
monthly linky party.
Well, this month I have the project done, the pictures ready and am writing this post with plenty of spare time! Happy times!!
The craft book chosen is actually the book I won in January from the SAL in the random drawing Kelly does each month for the prize;
Patchwork Please
! Actually, this is one craft book that I have been using. I have made several items from the book and have enjoyed them all.
For this month, these sweet tea wallets from some scraps on my sewing table were calling to me. Just like most (all) of you, I am not quite sure what to do with all those scraps but can't quite throw them away. These wallets are perfect for that problem. What a delightful teacher gift these would make!!
Super cute projects in this craft book!


Dainty little prints for the wallets.






Any color combination will do nicely!
A dear friend of mine has a lovely Tea shop in a nearby town. This month I took a few of these little wallets to sell through her shop. It is the first time I will get paid for sewing. I really can't decide if it's a good thing, PRESSURE as everything must be perfect when you are selling something! My husband says Yes! :)
But in any case, I have this wonderful July finish, humble as it is!! And that my sewing friends, FEELS GOOD!